How Do I Choose a Headstone
Posted by:
Admin
Tags:
Headstone, Headstone Materials, Headstone Design
Posted date:
26-04-2021

If you are deciding on a fitting memorial to a loved one you may be thinking about how to choose a headstone. We look at the range of considerations that you can apply when looking for a headstone memorial.
Headstones can be known as many different things, including a grave marker, gravestone or tombstone. A headstone is located at the head of the grave to dedicate the burial location to the deceased. That way, family and friends will have a place to remember their loved ones forever.
Usually, family and friends will design the headstone in a way that represents their loved one, including their personality and more, using quotes, colours, shapes, materials, patterns, finishes, pictures and personal messages. However, when designing a headstone for your loved one, it is so important to consider your budget first.

It is essential to think about headstone designs, whether you plan a burial or cremation for your loved one. If you are struggling to decide, please contact a professional today to give you some helpful advice.

Flat headstones are usually made from concrete, stone and bronze, and they are placed flat on the ground; hence the name, flat headstones. The flat headstones are more traditional and come in a wide range of colours, sizes, materials, and finishes.
Raised-top flat marker headstones are made from stone or concrete blocks and are slanted to make the front more visible.
The upright headstone is one of the more traditional types of headstones. It has a concrete base and is fixed to the ground. They also come in a range of materials, including granite, marble and limestone.
Kerbed headstones are full-length and are placed flat against the ground. They are usually purchased with an upright headstone, too, to make the dedication more visible.
Granite is probably one of the cheapest headstone options, which is great for lower budgets. The material is flexible and adaptable and comes in a wide range of colours, and lasts a long time.
Marble is a stunning material, presenting blue and grey veins. However, you need to check your chosen burial ground rules and regulations if you plan to have a marble headstone as they aren't allowed, like some due to their lack of strength and durability. This is why marble is mostly used for interior design purposes.
Limescale is very popular and is one of the more traditional materials. Although, it is one of the least durable materials and decays a lot over time.
Bronze is a good option for headstones as it is a very durable material and doesn't need a lot of maintenance. Bronze is also one of the most expensive materials.
Stainless Steel headstones are much more modern. They can hold their strength and are much more durable than some of the other headstone materials.
A polished finish will give the headstone a smooth and shiny look. This finish is most popular when using granite and also in the newer graveyards. The only disadvantage to having this headstone finish is that it will require regular maintenance.
Part-polished basically means exactly what it says in the name. The inscription and base of the headstone are given the polished finish, and the other areas are sanded down, sawn, blasted or rubbed. This is great as it really makes the inscription stand out.
This finish means the headstone is basically left as it is to look more natural. To give this effect, the headstone is chiselled by hand, giving off a more traditional look which is perfect if your burial location is an older cemetery.
The honed finish is a lot smoother than the natural look but is unpolished, so there are no reflective issues. This finish is mostly used on the sides of headstones.
Here are a few of the more uncommon types of finishes:
Headstone Design
Types of headstones that are often used include:
Cross-Shaped Headstone
Book-Shaped Headstone
Heart-Shaped Headstone

Serpentine-Shaped Headstone

Tear-Shaped Headstone

Half Ogee-Shaped Headstone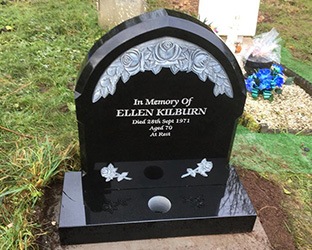 Choosing a headstone style is important to help create the look you want for the deceased's headstone to make it unique to present your loved one's life.
The lettering font
The type of engraving
The use of images
The use of symbols
You need to ensure that your wording contains the following:
An honest reflection of the deceased's personality; including an important message
A farewell message from all their loved ones

A message your loved one would have wanted to tell their family and friends

A reminder for loved ones who come and visit the grave

Full name of the deceased
Dates; including date of birth and date of death

An epitaph or short message; these are generally words from families or poetry
Here are some examples of epitaphs:
Rest in peace

Sadly missed
In loving memory
An inspiration to us all

Fought until the end

Incised Lettering
V-Cut Lettering
Embossed Lettering
Lead Letter Inscriptions
Raised Lead Letter Inscriptions

Headstone Symbols and Photos; including religious symbols

The price of the headstone will depend on the following factors:
Number of engraved letters
Type of engraving

Material of lettering

Paint or gold leaf

Symbols or images

It is important to check the specific rules and regulations for different cemeteries, as some things aren't permitted in certain ones. This includes the material of the headstone, size of the headstone and more.
Installing a headstone can be quite a hassle if your chosen cemetery doesn't provide these services. However, it is important to check how much they charge to ensure it fits in with your budget if they do.
Before you go to your local monument provider, please select a budget to ensure you can afford the headstone. We understand the costs can be expensive for both the funeral and the headstones. It is recommended to set aside a budget of around £1500, but please contact a professional if you would like to discuss this further.
To familiarise yourself with the different designs of headstones, it might be an idea to have a walk through a few different cemeteries or have a look online to ensure you have all the options. This helps you to have some better ideas on the appearance you want for the headstone and features you may wish to add.
There are so many different types of headstones, including upright, kerbed, flat and raised-top flat markers. It is important to choose the best type for you.
There is a wide range of materials for headstones, including granite, marble, bronze, limestone and stainless steel. It is important to consider your budget, durability and strength when it comes to choosing the material.
Do you want the headstone to look polished or more natural? Consider which cemetery the headstone is going on when choosing the finish; for example, it is modern or older?
Now, you need to choose a message that will go on the headstone that is personal to your loved one. You will need to think about your budget when choosing the inscription because many factors can change the pricing.
Compare the prices for as many different suppliers as possible to ensure you get the best price for yourself. If you need some advice, please get in touch with a professional.
Once you have chosen everything, ask your chosen supplier for a draft of what the headstone will look like so you can make any necessary changes before the headstone is made.
---
Are you looking for hand crafted gravestones and headstones in Tuxford, Nottingham or Nottinghamshire? Follow the link below to discuss your personalised headstone requirements. Gravestones and Headstones Nottingham.